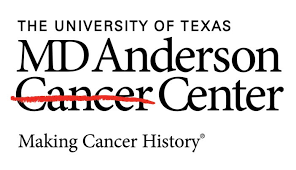 Chris received treatment at MD Anderson Head and Neck Center
I ran my first triathlon in the summer of 2015. Even with the 100-degree Texas heat, I fell in love with the sport. I started training several hours a day and eating a healthy diet. Swimming, running and cycling gave me a way to challenge myself and develop a healthy mindset about my food choices.
This also helped me overcome cancer of the base of tongue a few years later.
In the summer of 2021, I had a sore throat when I swallowed. Even drinking lemon water made my throat feel like it was closing up. I thought it was allergies, but a few weeks later, I made an appointment with an ENT to get it checked out.
After placing the scope down my throat, the ENT  told me she saw an abnormality that she suspected was cancer. She referred me to MD Anderson Head and Neck Center.
I was stunned and discouraged. But the next morning, I woke up and decided I would treat my cancer like I would a race. Except this time, it was a race for my life.
In July, I had my first appointment with head and neck oncologist Dr. Maura Gillison and radiation oncologist Dr. Brandon Gunn. After meeting them, I felt confident that I had the right team. They confirmed my diagnosis of cancer of the base of tongue caused by the human papillomavirus (HPV). My care team prescribed seven weeks of chemotherapy, along with daily proton therapy.
Adjusting my life for chemotherapy and proton therapy treatments
I moved to Houston from Florida for work several years ago. Driving to treatment every day, I was thankful to live in the city with the top cancer hospital in the nation. Because of that, I was able to go home after treatment every day and walk with my dog.
I continued to work from home before my daily proton therapy treatments. I took one to two days off each week to receive chemotherapy and recover.
My side effects were minimal. After the first dose of chemotherapy, Dr. Gillison's team noticed my bloodwork showed weakened kidney function. My care team changed the chemotherapy drug, and my kidney function improved. That boosted my confidence in my care team even more. When one drug was not working, they immediately had another one on deck and we kept moving forward.
Around week four of proton therapy, I started to notice changes in taste and a sore throat. I knew I had to continue eating healthy meals to stay strong. I stuck with my normal eating schedule and continued my regular diet no matter how uncomfortable it was. My go-to meal was penne pasta with pesto sauce, chicken and vegetables. I continued to eat avocado toast every morning, even when it scratched my throat. I decided that I had to become comfortable being uncomfortable.
Reaching the finish line of cancer treatment – and a half-marathon
I limited my workouts during the week to walking my dog. This gave my body time to reset after each treatment. Some weekends, I would continue my routine of 15 miles out riding my bike.
My last proton treatment was on Sept. 16, and my chemotherapy ended that same week. I felt fatigue set in toward the end of treatment. I decided to give my body a one-month reset, but by Oct. 13, 2021, I started with a two-mile run, took two days off, then kept increasing. By my sixth time out, I was back up to nine miles.
It's been several months since treatment, and I've surpassed the speed and distance I was running and cycling before cancer treatment. I credit my triathlon training and mindset for my body's ability to handle treatment so well.
In January 2022, I completed my 12-week training for the Houston Half Marathon and reached my longest distance of running 12.8 miles. To avoid large crowds due to the COVID-19 pandemic, I decided not to complete in the race, but I was ready!
I'm grateful I had the team at MD Anderson encouraging me and helping me get to the finish line.