Grace received treatment at Children's Hospital of New Jersey – Newark Beth Israel Medical Center
When Grace Eline was diagnosed with a brain tumor, teams at Rutgers Cancer Institute and Newark Beth Israel Medical Center joined forces on her unique care to get this fourth grader back to being just a kid again.
When Rutgers Cancer Institute of New Jersey and RWJBarnabas Health announced plans for a partnership, an opportunity to provide seamless patient care between the state's only National Cancer Institute (NCI)-designated Comprehensive Cancer Center and the state's largest healthcare system presented itself.  With clinicians, patients and health care facilities across the state, it was an opportunity both entities readily embraced. As a result, this marriage of academic and medical centers has produced some near perfect collaborations. The story of Grace Eline and her brain tumor is an example of harmonious, compassionate care at Children's Hospital of New Jersey at Newark Beth Israel Medical Center, an RWJBarnabas Health facility, with pediatric hematologist/oncologist Harini Rao, MD; then, at the Laurie Proton Therapy Center at Rutgers Cancer Institute and Robert Wood Johnson University Hospital (RWJUH) in New Brunswick, another RWJBarnabas Health facility, with Rahul Parikh, MD, medical director of the Laurie Proton Center and a radiation oncologist.
"They took care of everything, sharing all information, test results, making appointments for us, sometimes for the very next day. It gives me chills to think how fortunate we have been right here in New Jersey. I talk to other moms of children with cancer and it's not always like this," says Grace's mother Aubrey Reichard-Eline.
This sharing of information "is such a good thing for patients to know," Dr. Parikh agrees. "Even though my office is several miles away from Dr. Rao, we try to make patients and families feel that all of their care is 'under one roof.' We share numerous patients across our system, working together, figuring everything out together. It's not necessary for a 'sister hospital,' Newark Beth Israel, to open up a proton radiation site there. We can offer those treatments here in New Brunswick. And it is up to us, the members of the medical team, to help overcome logistical hurdles to get patients the best treatment possible."
Grace Eline is 9-years-old and in fourth grade.  This Saturday morning, she's quietly finishing up a school project in her family's kitchen in Gillette, New Jersey,using a beautiful shade of sapphire sea blue as the painted watery backdrop for a setting of dolphins. Cut-out pictures of dolphins are ready to be glued onto the poster.  Hazel-eyed, with a sprinkling of freckles, Grace is wearing a comfy knit hat which lets her still-short hair just peek out.
"Great," her mother Aubrey says complimenting Grace's work. "I love the way you included different kinds of dolphins." Aubrey is a whirlwind of positive energy while Grace is serene, some might say wiser than her years.
"Have you eaten all your Halloween candy yet?" I ask Grace.
"No but they are working on it," this mother of two interjects including Grace's little brother, Landon, 8. "The kitchen counter this morning was already strewn with candy wrappers when I came down for breakfast," Aubrey sighs, but with relief and amusement to have such a normal November morning, at last.
"I am never normal," she says laughing about her high energy level. She's a full time working mom commuting into New York as a merchandising director. She recently opened up her own yoga studio with a partner. And she's just come through a harrowing, six-month battle for her daughter's life. "We've hit a weird lull now, and I'm not fully able to exhale."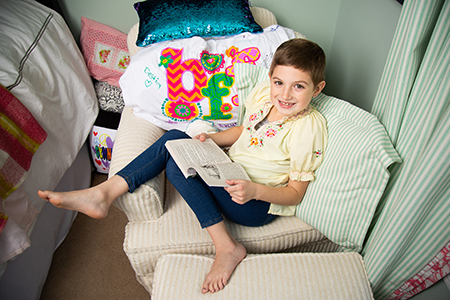 "Is your mom a warrior Grace?" I ask.
"A huh," she agrees.
"But you are the warrior!" Aubrey tells Grace.
"She is such a great mom," Grace adds quietly.
"Busy…my gosh, how busy we were," Aubrey says.
Just back from Walt Disney World in April 2018, this family of four had a bomb drop directly into their ordinary, hardworking lives with a medical diagnosis that is still sending out surrealistic shock waves.
"I think life has more meaning for us now," Aubrey admits. "Not that it didn't before but I don't sweat the small stuff anymore. This life is a gift and it can change in a hot second. If you had told me on April 8: Tomorrow, your life is going to change forever, I wouldn't have believed it. You hear stories about things like this happening to other families. Now, I look back and say, 'My gosh, that's us.'"
The Eline family, Grace, Landon, Aubrey and father Dan, were thrown into this life-changing centrifuge with the news of a brain tumor around Grace's pituitary gland. A brilliant, beautiful, athletic little girl who loves softball, swimming, gymnastics and art, Grace had been drinking "tons of water for two years," according to Aubrey. Their pediatrician, a family friend, saw no cause for alarm because she had no other symptoms at first. Then her growth began to slow. "Grace had always been off the charts before," Aubrey explains.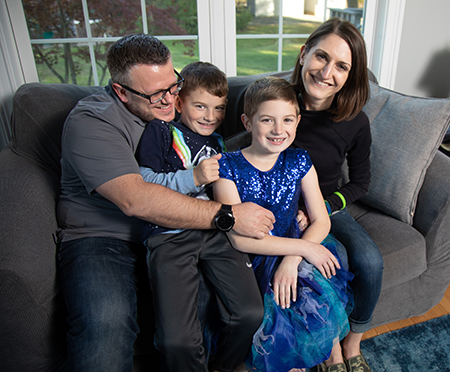 Referred to a pediatric endocrinologist, Ellen Oppenheimer, MD, with Children's Hospital of New Jersey at Newark Beth Israel Medical Center, Aubrey notes, "Grace was tested for everything and only one thing looked suspicious. Normally, we would have just continued with two more months of testing at different times to look at different hormones, but the physician said, 'You know, I don't think it's any of that. Let's just go for a pituitary MRI right now.'" And so, they did that morning.
By afternoon, the family was called to Dr. Oppenheimer's office. The doctor was visibly upset when she shared the MRI results with the Elines. "I'm so sorry. There is a mass in Grace's brain," Aubrey recalls the doctor explaining, as she and husband Dan were handed a sticky note.
On it was the name Harini Rao, MD, her phone number and a date, the very next day, for an appointment at Valerie Fund Children's Center for Cancer and Blood Disorders at Children's Hospital of New Jersey at Newark Beth Israel Medical Center.  "Dr. Oppenheimer went with her gut and was so proactive in the scheme of things, even making that first appointment for us. It could have been far worse. Because Grace's tumor was sitting very close to her optic nerve, if we had waited, it might have grown, and she could have lost her vision. As it was, she never had typical brain tumor symptoms: headaches, vision problems, or balance issues."
That little sticky note was just the start for teams at RWJBarnabas Health and Rutgers Cancer Institute, working together to save Grace.
Strong on the ice and in life, pediatric brain cancer survivor Grace Eline, represented Rutgers Cancer Institute and RWJBarnabas Health during the annual NHL Hockey Fights Cancer game. As part of the event, Grace, who was treated at Rutgers Cancer Institute, Newark Beth Israel Medical Center and Rutgers Robert Wood Johnson University Hospital New Brunswick, fulfilled a one-day contract with the New Jersey Devils, having practiced with the team and dropped the ceremonial puck. Read more
First up was the meeting with Rao where Grace enjoyed playing and painting with Kim Dachisen, RN, or "Kimmie Pants," so much that she couldn't wait to come back. "She loved it there," Aubrey laughs. "We were freaking out and Dr. Rao was so calm."
"That first meeting with the Elines was obviously difficult," Rao recalls, "but Grace was smiling throughout, and these parents handled the news remarkably well."
Aubrey explains, "Forty-eight hours into this crisis, Dan and I looked at each other and though we were under extreme stress, we literally vowed to stay strong for Grace and Landon and for each other. Yes, we would feel our feelings, acknowledge our sadness, but we would go for the happy.  Thank God I have my yoga. If you can't channel the positive, you will go crazy." Because both parents are employed full time in New York City their juggling act had just begun. Aubrey considered taking a leave of absence but decided to hold off. "Dan and I would look at one other as each week began and work out a shared schedule of days in the office with days off to be with Grace. Both of our employers were super supportive, and still are, letting us work from home at times."
It took four more weeks of bloodwork, ophthalmology evaluations, a bone scan, a PET scan, a spinal tap and two more MRIs both two-hours long for the official diagnosis on May 2: a germ cell tumor, also known as a germinoma. The good news: pure germinomas have a 90 percent long-term cure rate. "This tumor," Dr. Parikh explains, "was quite prominent in the front part of the brain, just near her optic nerves. There are only a few hundred cases a year."
Grace's tumor was sitting "in an area of the brain that controls certain hormones, known as the suprasellar region," Rao adds. "Usually patients present with hormonal side effects, but Grace was fortunate and had none. Markers in her cerebrospinal fluid and blood also indicated that she wouldn't need surgery, so our plan was chemotherapy followed by radiation."
The Elines sought second and third opinions in New York City but returned to the teams in Newark and New Brunswick. "At the end of the day, we felt most comfortable in New Jersey and liked the way Dr. Rao and Dr. Parikh worked with each other," notes Aubrey. "They kept telling us, 'Here's what the treatment is going to look like. We'll cross all these bridges in stages.' As messed up as this situation is – believe me, you don't ever want to have a diagnosis like this – we are so happy that we had these people. They lifted us up." Rao adds, "Our staff loves all of our kids and their families. We become an extended family and actually call our kids, 'our kids,' not our patients. Grace especially was a strong little trooper, a champion."
Beginning on May 7, 2018, Grace received three days of chemotherapy, every three weeks, for four months. "What a ninja she was about throwing up, never complaining!" her mom says.  "I remember her coming down the hall in the middle of the night with a bucket, or in the parking garage, or after she had been drinking a berry smoothie, which was pretty traumatic looking when it came back up. She would be super sick, just lying there and while they have medication for the nausea, it would make her so lethargic for two or three days," Aubrey recalls. And it didn't always work. "Seeing her just lying there would upset Dan more than me. We would be on opposite sides of her bed and he'd say, 'I can't stand to see her like this.' But when he was down, I would be up and vice versa. I really lost it when her long hair fell out in clumps, right in my hands. I had to go into the bathroom to cry." In a show of solidarity with Grace, other friends and family members, including Landon and her Uncle Danny shaved their heads to become "a fan club encouraging her during her treatments," Parikh recalls.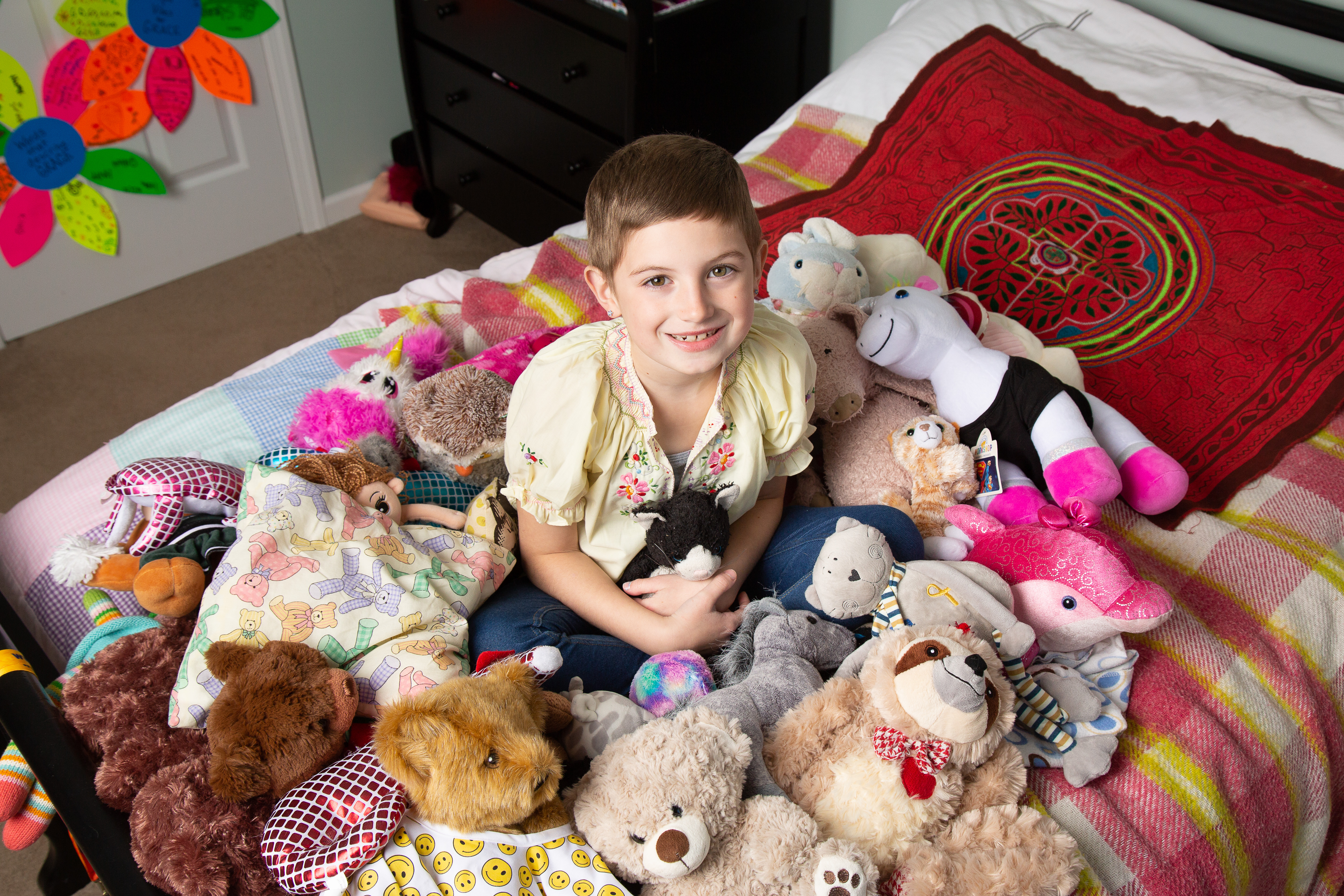 After the best possible response to chemo, Grace began a course of 24 days of daily, targeted proton therapy radiation while wearing a superhero mask designed especially for her by radiation therapist, Nishith Christian, RTT. "The masks alleviate anxiety and actually make it fun for young patients to come in for treatments," Parikh explains. "We've had all kinds of comic book characters. In Grace's age range, we might ordinarily give anesthesia for each treatment, but the masks distract kids and keep them immobilized enough that they don't always need anesthesia. Grace is really mature for her age and didn't need anything but her superhero persona."
Targeted proton radiation was medically necessary in Grace's case and Rutgers Cancer Institute and RWJUH are one of the few programs in the area to have this precise, powerful therapy.  As New Jersey's only NCI-designated Comprehensive Cancer Center, Rutgers Cancer Institute is "running all of the phase 3 randomized clinical trials to determine when protons are better for adult patients," Parikh explains.  "We have compelling data that for patients of Grace's age and with her tumor location, it is standard of care to give her proton therapy." Unlike conventional X-rays, proton radiation can target a tumor sending a beam of positively charged hydrogen particles directly to a point inside the body where it stops suddenly. As opposed to standard radiation, or photon therapy which produces a fog of dangerous particles on its path inside the body, proton radiation protects "the uninvolved brain and minimizes incidental" damage to nearby tissues.  "In the past, standard radiation to the brain would certainly cure a patient's tumor but likely result in real neuro-cognitive deficits. For decades the question was always: how do we treat this part of the brain, the suprasellar region, safely? Now, the modern treatment is chemotherapy followed by proton radiation and this has led to the highest cure rate and the lowest chance of secondary effects.  I expect Grace to have a long-term cure because of how she was treated and how her tumor responded to all of her treatment. She should also continue to do extremely well in school."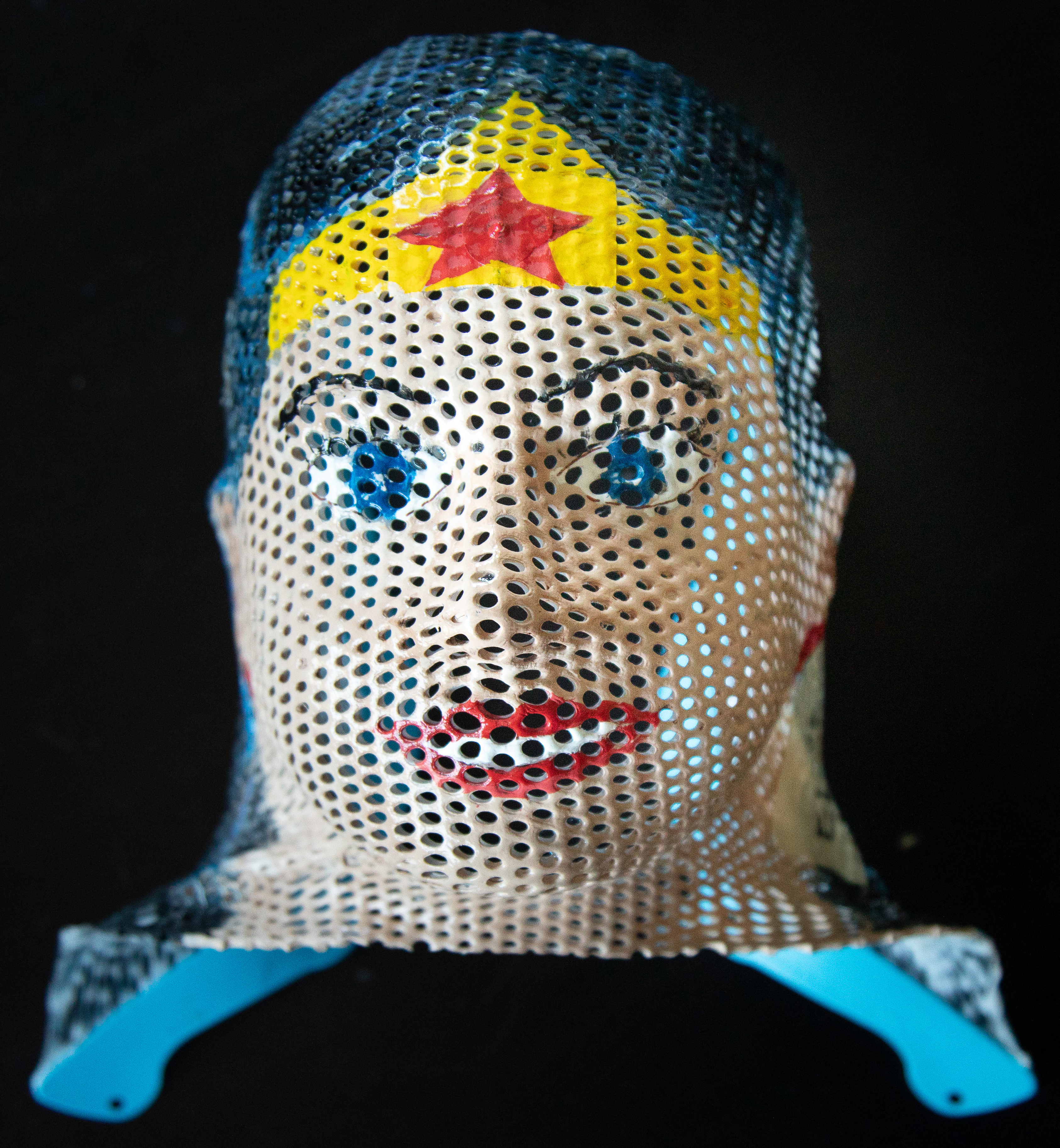 Aubrey describes the radiation team's efforts as "choreographed art" with their pinpoint brain mapping and radiation dosing down to a perfect science. They were always "so thorough, thoughtful and sweet. On one of her treatment days, Grace and I even got to see the actual machine," a huge synchrocyclotron that energizes the subatomic particles and sends the protons – 2,000 times heavier than conventional radiation – traveling in a distinct line so they can irradiate a very localized area of the body. Invented 25 years ago, the science behind this approach is reaching its potential because of the ability to see clearly inside the body.
"I always wanted to be a surgeon," Parikh says, "but I have really flat feet and simply can't stand for hours," he laughs. "When I saw what radiation could now do, it seemed like I'd be holding a surgeon's scalpel without making a cut. In some cases, we can do even better than traditional surgery.  We leave unaffected organs behind to heal and go back to normal while tumors go away."
Grace, whose world opened up very wide this past year, is now thinking of a career in medicine. Her cancerous tumor is gone, but the experience has left its mark. "It sounds crazy, but maybe all this happened for a reason," her mother suggests, "It's a gift we all want to pay forward," especially Grace.
Aubrey laughs. "And a special doctor, too, right Grace?"
And from her fourth-grade perch, she thinks, "Maybe a radiation oncologist, or a neuro-oncologist?'"— a future that leaves both her teams of doctors and healthcare-givers in awe.
Special Superheroes
As you read in Grace Eline's story, patients who undergo proton therapy wear a mask to immobilize their head for treatment. But at the Laurie Proton Therapy Center at Robert Wood Johnson University Hospital New Brunswick, pediatric patients don something a little more special.
"I visited Cincinnati Children's Hospital in 2017 and got the idea that we should create a special radiation mask for all of our kids (even those that get anesthesia) to help them get through treatment and feel like a superhero of their choice," notes Rutgers Cancer Institute radiation oncologist Rahul Parikh, MD, who is the director of the Laurie Proton Therapy Center. "I soon discovered that one of my radiation therapists (Nishith Christian) is actually a real artist. He enhances these masks for all of the kids. We have ones representing a number of comic book superheroes and even a fairy princess."
"Painting these masks gives me great joy knowing something as simple as a favorite character on a mask can help these children get through a trying time in their young lives," says radiation therapist and artist Nishith Christian, RTT. Adds Dr. Parikh: "Following treatment, the kids can choose to keep their mask, which is a souvenir of when they were the bravest."